About the Team
About Digital Frontiers Media
We are Digital Frontiers Media, we often work on projects for local and national brands. We are one of the top creative digital agencies in Southwest Florida.
Meet Digital Frontiers Media
We are a full-service award-winning digital marketing agency. We are innovators, strategists, creatives, technologists, designers, marketers, and storytellers. We are driven by our passion to create unique, engaging experiences that connect our clients to their customers.
Our agency is well-respected and sought-after by high-profile clients on the Gulf Coast and across the country. We are known for our fresh ideas and clean design as well as our expertise in new technologies for all interactive media and social platforms.
We work closely with our clients to research, design, develop, and manage brands, websites, mobile apps, advertising, marketing, and new digital products and strategies that attract consumer attention and drive results.
Culture & Vision
We value being the best at what we do. We are dedicated, focused, and a little obsessive about simplicity, quality, and intuitive function. We love to solve problems and enjoy forging new paths through the digital space. We are design and technology geeks just as much as we are rock stars and superheroes. On the inside.
We listen, learn, collaborate, and create. We fill whiteboards and sketchbooks, work late into the night and on weekends with the goal of finding the big idea, the best solution, the right message. And we live for the moment when everything comes together.
Our core values:
Simplicity: clean and intuitive design
Creativity: fresh ideas combined with award-winning design experience
Quality: correct execution of the right creative
Responsiveness: act quickly and appropriately, deadline driven, around-the-clock availability
Innovation: new methods, designs, technologies, approach
Our Creative Process
We begin with the discovery phase in order to gain a deep understanding of our client's history, products, services, target market, competitors, and vision for their future. We meet face-to-face to foster a good working relationship from the start. We pride ourselves on being good listeners and intutive collaboration partners. We ask questions to learn more about our clients and to help define the problem they are trying to solve.
The information we learn from discovery drives in-depth market research that may include focus groups, quantitative or qualitative surveys or other high-level assessments. Ideation sessions follow to generate concepts, crystalize objectives, create messaging, and find the optimal way to drive engagement. Once a strategic roadmap has been developed, our designers select fonts, color palettes, and create comprehensive sketches. We revise, refine, and remove the superfluous and redundant, simplifying concepts and elements to produce the most effective and elegant solution. We prepare multiple alternatives of our visual ideas in which each variation explores a different perspective and we present our designs in-person to all the client stakeholders.
Our Management Process
Our experienced account managers/project managers are the main interface between our clients and our team. They keep all the various moving parts and personalities working together to stay on schedule and on budget. Fluent in every language we speak, from Drupal to CSS, graphic design to marketing, PR to social media, they communicate in a way that promotes clear understanding and creates an enjoyable client experience.
Leadership Team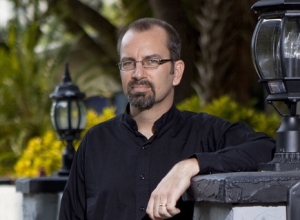 Stephen Barker | President
Stephen began programming computers for fun as far back as 1982, but his passion has been in providing cost-effective excellence to web and interactive multimedia clients since 2007.  Stephen is the moving force behind most of the technical aspects of our work.
Named one of 2010's "25 People to Watch" in the July issue of Biz941 magazine, Stephen holds a Master's degree from 2006 for his work in Augmented Reality (AR) and Tangible User Interfaces (TUIs) and has over five years of experience in these technologies along with building physical computing systems using sensors, video analysis, servos, and other novel input-output devices.
Team Members
Dave Kopecek | Senior Drupal Developer
Dave has been working with the Drupal web development environment since 2004. In that time, he has developed and hosted over 100 Drupal-based websites. Dave started programming for the hospitality industry working with Summerfield Suites and Wyndham International before starting his own company in 2000. Today Dave owns and operates many Internet-based companies including condoEngine, Inc. which markets vacation rentals. Dave has been a part of the Digital Frontiers Media team since 2009.  He often works behind the scenes helping with business solutions, logic, architecture, configuration and implementation on our many challenging projects.
Nicole Apostle | Digital Marketing Strategist/ Drupal Developer
Nicole's strengths in marketing, social media, design, writing, and website development allow her to work effectively on all aspects of a project. She has specialized experience in digital marketing strategy for the tourism industry: as Webmaster for Visit Sarasota County (VSC), Nicole worked directly with VSC partners, marketing organizations, and website developers to build, optimize and maintain a new VSC website. She holds an MBA in Marketing from the University of South Florida, an Associate's Degree in Graphic Design Technology from the State College of Florida, and a Bachelor's Degree in Sociology from the University of South Florida, Tampa. 
J. Chris Colwell | Drupal Developer
Chris became a developer while working as a production assistant for Duke University. Later, as an independent developer, he worked with Frito-Lay/Tostitos, Gatorade, and other companies providing maintenance and custom HTML/CSS. After discovering Drupal, he developed custom Drupal modules for clients including Quaker, Celebrity Cruises, and Zicam. Chris has been a member of the Digital Frontiers Media team for over five years.
Phoebe Bishop | CFO/Accountant
Phoebe's financial management experience includes work as controller for ROBRADY Design, DMG, Inc., and as an accountant for the Metal Building Company. She holds degrees from New College of Florida, the University of Hawaii at Manoa, and the Keller Graduate School of Management of DeVry University.
John Edwards | Copywriter
John Edwards graduated from Carnegie Mellon with a Masters in professional writing. For nearly 20 years he has helped clients from Burbank to Beijing refine and tell their stories through scripts and speeches, presentations and print. John currently divides his time between L.A. and the Bay Area.