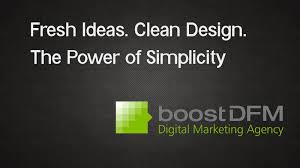 February 18th, 2014 (Sarasota, FL)—Combining the fresh ideas and clean design style of Boost Studio with the technological know-how and expertise of Digital Frontiers Media (DFM), boostDFM represents a singular creative agency for clients in Southwest Florida and around the world.
The agency's ability to deliver high-quality branding, website/app design and development, print design, copywriting, and media relations makes them one of the few truly full-service agencies for businesses across a wide range of sectors, from construction, tourism/hospitality, technology, consumer products and non-profits.
Boost Studio CEO and Design Director Christine Koch is excited to announce the venture. "Fusing our studio's high quality design with DFM's interactive and innovative capabilities means we can offer compelling new digital products and strategies that grab consumer attention and drive new revenue streams for our clients."
As boostDFM, the new entity brings nearly six decades of expertise and experience creating both traditional and digital solutions for companies around the world. Their combined work has garnered multiple awards from the American Advertising Federation (ADDY) as well as the Council for Advancement and Support of Education (CASE) and has been featured in LogoLounge Master Library Series which showcases the country's best logo design.
"I couldn't be happier about this team-up," says DFM founder and President Stephen Barker. "Our combined talents and abilities means no matter what our clients need, boostDFM will have the solution."
About boostDFM
Innovative. Interactive. boostDFM is a media and brand design firm based in Sarasota, Florida and located at the intersection of technology, content and interactivity. From web presence to brand design to custom programming including Augmented Reality (AR) and mobile apps, boostDFM's philosophy of simple yet striking media design translates into respect, ROI and engaging client experiences across industries and across the nation. Visit www.boostDFM.com and find out how boostDFM will make the difference in your media.