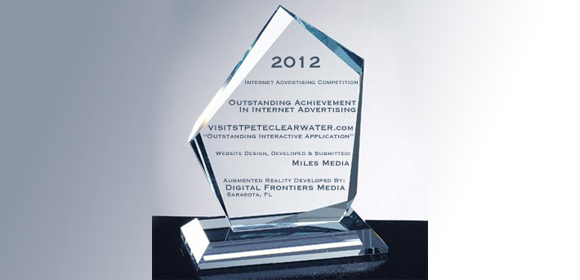 Digital Frontiers Media was been chosen winner of the 2012 Internet Advertising Competition (IAC) for "Outstanding Achievement in Internet Advertising for their collaborative work on Augmented Reality with Miles Media. The Augmented Reality 3D experience for Visit St. Petersburg/Clearwater takes you on a tour to some of the premiere destination locations in the area. Thousands have already engaged with it on VisitStPeteClearwater.com and the YouTube video demonstrating the experience has generated additional exposure. The video is posted or linked to on travel, business, technology websites around the world, including INC.com and Travolution.
Visit the project here at http://goo.gl/1jJll
About Digital Frontiers Media
Digital Frontiers Media (DFM) is an award-winning multimedia production company based in Sarasota, Florida that specializes in projects where technology, content and interactivity intersect. DFM develops eye-catching interactive media, national attention-getting websites, and custom programming services, including Augmented Reality (AR) and mobile apps. DFM specializes in the "freakishly brilliant" Drupal open source Content Management System (CMS) and building projects that draw upon multiple disciplines to provide superior user experiences. For more information about Digital Frontiers Media visit www.digitalfrontiersmedia.com.
About Miles Media
Miles provides forward thinking, results driven, integrated marketing solutions to more than 80 destination and hospitality clients across the U.S. and internationally. Miles also publishes in-market visitor guides under the SEE Magazine division. For more information visit MilesPartnership.com.