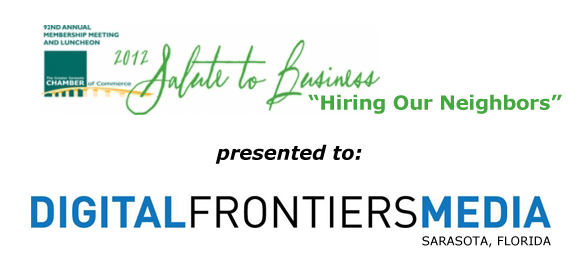 November 5, 2012 (Sarasota, FL)—Digital Frontiers Media is the recipient of Salute to Business "Hiring Our Neighbors" award from the Greater Sarasota Chamber of Commerce first Salute to Business.  The award was presented to Digital Frontiers Media October 22, 2012 at the "Winner's Circle" event prior to the Greater Sarasota Chamber's 92nd Annual Meeting and Luncheon.  
"The fact that we are able to honor the Chamber Member businesses that are positivley impacting our community and moving it forward is truly gratifying," remarked Greater Sarasota Chamber President, Steve Queior.
Digital Frontiers Media was recognized as a Salute to Business "Hiring Our Neighbors" winner based on the results of the Salute to Business Survey the Chamber distributed to its members.  For a complete list of winners please visit, www.sarasotachamber.com.
Digital Frontiers Media (DFM) is an award-winning multimedia production company based in Sarasota, Florida that specializes in projects where technology, content and interactivity intersect. DFM develops eye-catching interactive media, national attention-getting websites, and custom programming services, including Augmented Reality (AR) and mobile apps. DFM specializes in building projects that draw upon multiple disciplines to provide superior user experiences. For more information about Digital Frontiers Media visit www.digitalfrontiersmedia.com.
About The Greater Sarasota Chamber of Commerce:  The Greater Sarasota Chamber of Commerce is a 1,600-member, not-for-profit organization that exists to maximize its members' success, the community's competitiveness, and the area's economic strength.  Incorporated in 1920, it continues to grow at a rapid pace to serve the educational, social, governmental, and economic and leadership development needs of the greater Sarasota area and is the bridge that strengthens long-term economic vitality, business success, job creation and the quality of life.