This week Boost welcomed Larry Bierman, CEO of Accommodation Solutions to the studio. Larry is also chair of the Longboat Key Chamber Small Business Council and he came over to discuss a new seminar series he is developing for the Chamber. The first seminar will be a breakfast for members in the hospitality industry and he asked us if we would give a presentation on website design and development. We thought it was a great idea and agreed to participate.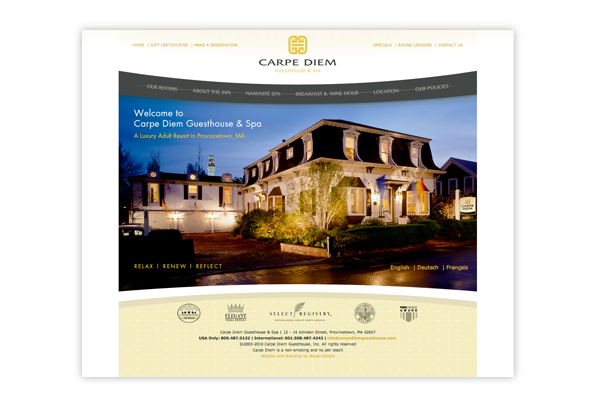 Our client, Carpe Diem Guesthouse and sister-property Namaste Spa, from Provincetown, MA would be an ideal example for the presentation as we completed a total rebranding package for them that included just about everything an inn or hotel would desire for marketing: identities for both properties, 75-page website in 3 languages, brochures, letterhead package, advertising, vehicle wraps, signage, and merchandising from table-tents to beach bags and turn-down sweets.
After talking about what we could offer, Larry thought it would be beneficial to include the more technical side of website development in the presentation. So we invited one of our strategic partners, Mical Johnson of Digital Dragon Direct, to get involved. Mical is one of the most knowledgable people in the region for social media and SEO strategy. He is well-known to Barcamp Sarasota members and is in the process of launching another business in video marketing, Video Vault Systems. Mical will be joining us for the seminar on May 10th, location to be decided. We will post an invitation on Facebook, Google+, and LinkedIn as we get closer to the event. If the breakfast is a hit, Larry will be expanding the seminars, adding more breakfasts and lunch-n-learns to target other sectors of the chamber like realtors or restaurants and even the general public as well. We'll keep you posted!